the

Ingredients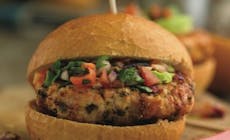 Instructions
Quick and simple recipe for turkey burgers. Get barbecuing!
Method:
Set up the barbecue for 250c direct heat.
Place the turkey mince, jalapeño peppers, Monterey jack cheese, breadcrumbs, mayonnaise and salt and pepper into a bowl and combine well. To test for seasoning, make a small meat ball, cook to 75c and taste.
Once you're happy with the seasoning, divide the mixture into 4 and shape using the Weber Burger Press.
Make a fresh and zingy salsa by mixing the tomatoes, red onion, coriander, lime juice in a bowl and taste for seasoning. Add sea salt flakes to taste.
Clean the barbecue grate using a T-Brush and apply some vegetable oil by placing half an onion onto a grilling fork and dipping in the oil.
Place the burgers onto the grill over a direct heat and close the lid. After about 4 minutes use a barbecue slice to flip the burgers. If they stick leave where they are as they are not ready to turn. Close the lid and grill for a further 4 minutes.
Check that the burgers are cooked by inserting the tip of the probe into the middle of the burgers and making sure they have reached a safe 75c temperature.
Remove from the grill and build yourself a delicious burger with the fixings. Enjoy!
All of our recipes are created by our expert chefs at the Weber Grill Academy. View more inspirational recipes or book a course at the Grill Academy now.

More

recipes
You May Also Like
More

recipes
You May Also Like