the

Ingredients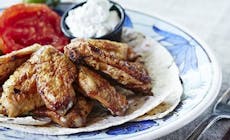 Instructions
Outstanding Turkish style chicken wings with great flavours.
In the kitchen:
Trim the tip from the chicken wings.
Peel the garlic cloves and slice finely. Make small incisions into the chicken wings and insert the garlic.
Brush the meat with olive oil.
Mix the paprika, chilli powder, dried thyme, salt and pepper in a bowl. Cover the chicken wings with the rub so that each piece has an even layer of spices. Infuse for 30 minutes.
Make the yoghurt sauce: Whisk the yoghurt until smooth. Add the olive oil, peel and crush the garlic, wash the mint leaves and chop them. Add the mint and garlic, season with salt and then whisk again.
At the barbecue:
Prepare the barbecue for indirect heat, approx. 210°C.
Put the chicken wings on the middle of the grate and close the lid. Cook them for 45 minutes – or until crispy. 
Use a thermometer and remove when core meat temperature is 75°C, serve with yoghurt sauce.
Tip: Serve with a side of grilled vegetables.
All of our recipes are created by our expert chefs at the Weber Grill Academy. View more inspirational recipes or book a course at the Grill Academy now.

More

recipes
You May Also Like
More

recipes
You May Also Like