Book Now for 2023 Courses
Find out more about Grill Academy
Grill Academy
WHAT IS IT ALL ABOUT?
Learn how to barbecue the Weber way
Tips & tricks from our grill experts
"The
largest network

of barbecue cooking schools

worldwide

"
What to choose?
A course for every taste
Level 1

Barbecue Classics

Perfect for anyone looking to learn the Weber way of cooking, this introductory course will teach you how to achieve consistently great results with classic barbecue dishes. You will learn must-have barbecue skills, such as lighting, controlling temperature and how to tell when your food is cooked to perfection.

Level 2

Weber Essentials

Suitable for those who want to learn to cook food other than the standard barbecue fare of burgers and sausages, the Essentials Course shows how to use Weber's renowned "lid-on" barbecue technique to grill, roast, smoke and bake!

Level 2

Weber Essentials II

Due to popular demand of the course Weber Essentials, the Weber Essentials II course has arrived. From beginners to advanced grillers its suitable for all; for those who loved the first version and would like to discover the new one, and for all who simply are willing to enjoy the best of barbecued food.

Level 2

Festive Barbecue

Learn how to use the Weber way of cooking to create warming winter dishes on the barbecue including Sunday roasts, soups and even your Christmas turkey! The Winter Warmers course includes mastering Weber's renowned "lid-on" barbecue techniques for grilling, roasting, smoking and baking.

Level 3

Charcoal Grilling

Nothing beats the authentic sensory experience of a charcoal barbecue. On this course, you'll get a chance to delve into a world of flavour and learn valuable new skills, such as lighting and cooking methods. Enjoy exploring the Weber charcoal range!

Level 3

Master Gas Grilling

At our gas barbecue course our grill masters show the versatility and ease of using our Weber gas grills introducing our new Genesis II and Genesis II LX models and the world famous Weber Spirit- and Q-series. Learn how to barbecue everything from paella to apple chimney cake, the possibilities are endless.

Level 3

American Barbecue

This interactive course is the perfect way to master American barbecue cuisine and create deliciously authentic dishes from scratch at home: from spicy chicken wings to a side of signature slaw, and even something for those with a sweet tooth.

Feel the mood at a grill course
Get a glimpse of Grill Academy
Interested in Grill Academy?
Find out more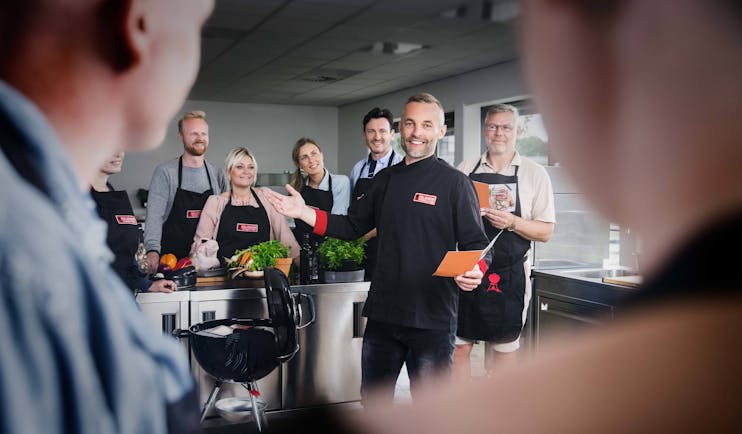 Corporate Events
Did you know that it is also possible to host your corporate team event or private get-together at the Weber Grill Academy?
Read more