the

Ingredients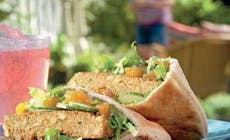 Special Equipment
Instructions
In the kitchen:

In a saucepan combine the lentils and water. Bring to the boil. Skim off any foam that rises to the top. Reduce the heat to mediumlow and simmer for 10–20 minutes, until tender. Drain well, rinse briefly, and allow to cool.

In a food processor fitted with a metal blade, pulse the lentils, chickpeas, peanuts, curry powder, cumin, salt and pepper to form a thick, slightly chunky paste. Transfer to a bowl and fold in the panko, yogurt, eggs and coriander until combined.

Using the burger press, form four gently packed patties, each about 1.5 cm/ ¾ inch thick. The patties will be quite wet. Cover and refrigerate the patties for 2–4 hours.

At the barbecue:

Prepare the grill for direct cooking over medium-high heat (200–260°C/400–500°F) and preheat a grill-proof griddle.

Coat the griddle lightly with the oil. Place the patties on the griddle and cook over direct medium-high heat for 5–7 minutes, with the lid closed, until firm and nicely marked, carefully turning once. During the last minute of grilling time, warm the pittas on the cooking grates over direct heat, turning once.

Cut the pittas and patties in half. Place a patty half inside each pitta half. Divide the lettuce, cucumber and mango chutney among the pittas, tucking the ingredients inside. Serve immediately.
All of our recipes are created by our expert chefs at the Weber Grill Academy. View more inspirational recipes or book a course at the Grill Academy now.

What do you need?
Recommended Tools
What do you need?
Recommended Tools
More

recipes
You May Also Like
More

recipes
You May Also Like