the

Ingredients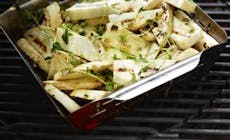 Instructions
A delicious alternative to French fries with barbecued dishes.
In the kitchen:
Peel the celeriac and cut into 1 cm slices. Brush each slice with oil and sprinkle with salt and pepper.
Rinse the thyme sprigs and remove the leaves from the sprigs.
At the barbecue:
Prepare the barbecue for direct heat – approx. 200°C. If using a charcoal barbecue you need well over 1/3 of a chimney starter of lit Weber briquettes.
Grill the celeriac slices for approx. 2 min. on each side so they get sear marks. Remove from the barbecue and cut the celeriac slices into sticks about 2 cm wide. Place the sticks in a vegetable basket.
Rearrange the barbecue to indirect heat – approx. 180°C. If you are using a charcoal barbecue you will need to carefully remove briquettes with a tong, wearing a mitt. 
Place the vegetable basket on the grate at indirect heat and bake the celeriac sticks for approx. 25-30 min. Remember to close the lid of the barbecue.
Sprinkle the sticks with thyme leaves when there is about 5 min. of cooking time left.
Tip: Use any of your favourite root vegetables and put them into an aluminium tray. Pour 2 tbsp runny honey over the root vegetables when there is 5 min. of cooking time left for a sweeter flavour.
All of our recipes are created by our expert chefs at the Weber Grill Academy. View more inspirational recipes or book a course at the Grill Academy now.

More

recipes
You May Also Like
More

recipes
You May Also Like