the

Ingredients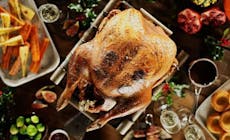 Special Equipment
Deluxe Barbecue Rack
Large Drip Pan
Butchers String
Instructions
In the Kitchen:

First remove the turkey from the refrigerator two hours before roasting. Place bird on your roasting rack. This helps to take the chill out of it.

Soften butter in a bowl. Add rosemary, cranberries, and cinnamon. Once well combined, roll into a log. Wrap butter in clingfilm and leave to harden in the fridge for 15 minutes.

Loosen the skin above the turkey breast meat.

Cut the log of butter into discs. Slide the discs under the skin that you have previously loosened.

Place the fresh rosemary, clementines, and garlic inside the cavity of the turkey.

Tie the legs together securely using butcher twine.

Finally, season with olive oil sea salt and black pepper.

At the Barbecue:

Prepare the barbecue for indirect heat, approx. 170°C. If using a 57cm charcoal barbecue you will need 1/2 chimney starter of lit Weber® briquettes.

Place a Weber Drip Pan indirect underneath the Deluxe Poultry Roaster. This will collect the meat juices for a splendid gravy.

Roast the turkey for 3-3 1/2 hours or until the core internal meat has reached 75°C.

Let the turkey rest for at least 30 minutes before carving.
All of our recipes are created by our expert chefs at the Weber Grill Academy. View more inspirational recipes or book a course at the Grill Academy now.

What do you need?
Recommended Tools
What do you need?
Recommended Tools
More

recipes
You May Also Like
More

recipes
You May Also Like