the

Ingredients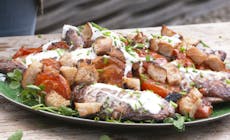 Special Equipment
Weber Connect Smart Grilling Hub
Hickory Wood Chunks
Premium Grilling Basket
Premium Basting Brush
Instructions
In the kitchen

The day before you want to cook, dry brine the chicken. Make a few deep slashes in the meat of each chicken leg and sprinkle Maldon salt all over, rubbing it in well. Set on a rack hung over a tray and slide into the fridge uncovered overnight.

At the barbecue

Fire up the barbecue ready for direct and indirect cooking. Set the chicken onto the grill bars away from the fire and leave to cook indirectly, with the lid down, for a good 20 minutes, turning and rotating once or twice.

While the chicken is cooking, make the sauce by whisking together the mayonnaise, vinegar, lemon juice, horseradish, crushed peppercorns and chilli flakes in a bowl. Season to taste with Maldon salt. Transfer half to a small serving bowl to use as a dressing for the finished dish. Take the other half to the barbecue and have a silicone pastry brush ready for basting.

Tip the bread cubes into a fireproof pan and drizzle over 2 tbsp of the olive oil. Use the flat of a large knife to bruise the garlic cloves and add them to the pan with the rosemary. Season with Maldon salt and pepper. Drizzle the remaining 1 tbsp olive oil onto the tomato halves and also season with Maldon salt and pepper, place them on a Premium Grilling Basket.

Once the chicken has had its 20 minutes' cooking time, begin basting with the sauce. Brush all over regularly and keep cooking and turning for a further 20 minutes, or until the chicken is cooked through. When tested with the Weber Connect Smart Grilling Hub thermometer in the thickest part of the leg, it should read 74°C.

When you start basting the chicken, set the pan of bread over the direct fire and cook until crisp and golden, tossing to cook evenly. Remove the croutons from the fire and set aside. At the same time, rest the Premium Grilling Basket with the tomatoes directly over the fire so they soften, turning to cook both sides.

To serve, scatter the watercress onto a large platter and top with the grilled tomatoes. Add the chicken legs and sprinkle over the croutons. Drizzle with some of the reserved sauce and serve the rest alongside.
All of our recipes are created by our expert chefs at the Weber Grill Academy. View more inspirational recipes or book a course at the Grill Academy now.

More

recipes
You May Also Like
More

recipes
You May Also Like