the

Ingredients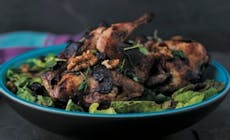 Instructions
If you love the smokey barbecue flavour, this gorgeous recipe is definitely one to try.
Method:
Whisk the black treacle, vinegar, thyme, salt and red chilli flakes in a small bowl. Gradually whisk in the oil. Pour 120 ml/4 fl oz of the marinade into a small, non-reactive bowl to use for the salad. Cover and refrigerate until ready to use. Place the quail in a large resealable plastic bag and pour in the remaining marinade. Press the air out of the bag and seal tightly. Turn the bag to distibute the marinade, place in a bowl and refrigerate for at least 8 hours or up to 24 hours, turning occasionally.
Pre-pare a two-zone fire for high heat (230-290°C)
Remove the quail from the bag, letting the excess marinade drip back into the bag. Discard the marinade. Season the quail with 1 tsp salt and 1/2 tsp pepper. Brush the cooking grate clean.
Drain and add the wood chipc to the charcoal and put the lid on the grill.
When smoke appears, cook the quail, breast side up, over roasting/in-direct high heath for about 15 minutes, with the lid closed, until the meat shows no sign of pink when pierced with the tip of a knife at the thigh bone. To crisp the skin, move the quail over grilling/direct high heath , skin side down, and cook for about 1 minute, turning once. Remove from the grill.
In a large bowl toss the salad ingredients with the reserved, refrigerated marinade. Season with salt and pepper. Serve the quail warm with the salad.
All of our recipes are created by our expert chefs at the Weber Grill Academy. View more inspirational recipes or book a course at the Grill Academy now.

More

recipes
You May Also Like
More

recipes
You May Also Like