the

Ingredients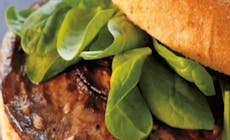 Instructions
For a veggie sandwich with a difference, try this Portobello Mushroom Sandwich recipe.
Method:
In a small bowl combine the aioli ingredients. Refrigerate until ready to assemble the sandwiches.
In a small bowl whisk the marinade ingredients. Place the mushroom caps, gill sides down, in a large glass baking dish. Brush the mushroom caps generously with the marinade and turn the caps over. Spoon the rest of the marinade over the gill side. Allow the mushrooms to marinate at room temperature for 15 to 20 minutes.
Prepare the grill for direct cooking over medium heat (175° to 230°C).
Remove the mushrooms from the dish and reserve the marinade. Lightly season the mushrooms with salt and pepper. Grill the mushrooms, gill side down, over direct medium heat, with the lid closed as much as possible, until they begin to soften, 4 to 6 minutes. Brush the cap sides of the mushrooms with some of the remaining marinade from the dish. Turn the mushrooms over and grill them until they are tender when pierced with a knife, 4 to 6 minutes.
Grill the rolls, cut side down, over direct medium heat until lightly toasted, about 30 seconds.
Spread aioli on the toasted buns and top each one with some rocket and a mushroom. Serve warm.
All of our recipes are created by our expert chefs at the Weber Grill Academy. View more inspirational recipes or book a course at the Grill Academy now.

More

recipes
You May Also Like
More

recipes
You May Also Like