the

Ingredients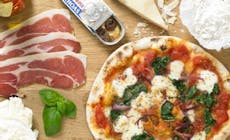 Special Equipment
Instructions
This recipe is perfect for use with the Weber GBS Pizza Stone, designed to create the perfect pizza in minutes.
Experiment with different toppings after trying this Italian classic.
Method:
First make the dough.  Put the flour, salt, olive oil, yeast, sugar and water into a large bowl and mix with your hands and bind together. When the dough has formed, tip out and knead for 10 minutes. You can also complete this step using a stand mixer with a dough hook. Return the dough to a greased bowl, cover and allow to prove for 1 hour, or until it has doubled in size.
To make the sauce mix together the chopped tomatoes, salt, pepper, oregano and sugar.
Split the dough into five equal balls. Make a dough ball in your hand by tucking all the creases and seams into the underneath of the ball. Roll out a thin base.
Thinly spread the tomato sauce, leaving a small gap all around the edge for the crust to form. Arrange the rest of the toppings evenly on the pizza leaving the cheese to last.
Using a dry well-floured pizza paddle firmly scoop up the pizza and shuffle it onto the pizza stone, cook for 3-5 minutes or until the base is crisp and the cheese is bubbling.
Garnish with prosciutto and rocket.
Tip: You can freeze unused dough for future use.
All of our recipes are created by our expert chefs at the Weber Grill Academy. View more inspirational recipes or book a course at the Grill Academy now.

What do you need?
Recommended Tools
What do you need?
Recommended Tools
More

recipes
You May Also Like
More

recipes
You May Also Like