the

Ingredients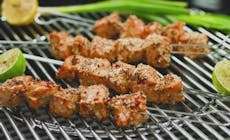 Instructions
Fire up your barbecue and try this quick recipe for tasty salmon skewers!
Method:
Combine all of the marinade ingredients thoroughly, mix in the salmon chunks and allow to rest for 3 minutes so that the flavours can infuse.
Feed the chunks onto Weber's Double Pronged Skewers, about 5/5 chunks per skewer.
Set up the barbecue for grilling (direct heat). With a little vegetable oil grease the cooking grate and place the skewers on to cook for 7 minutes each side. Turning only once.
Boil the remaining marinade for 4 minutes. Remove the salmon from the grill and allow the skewer to cool. Remove the salmon from the skewers onto a plate and add a little of the hot marinade.
All of our recipes are created by our expert chefs at the Weber Grill Academy. View more inspirational recipes or book a course at the Grill Academy now.

More

recipes
You May Also Like
More

recipes
You May Also Like