the

Ingredients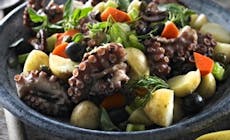 Instructions
This beautiful summer salad is ideal if you fancy trying something a little different.
In the kitchen:
Clean out the head of the octopus, remove the beak, located at the junction of the tentacles. Rinse well and blot dry.
Peel the potatoes and cut in cubes of 2 cm. Soak them for 10 minutes to remove the starch.
Boil the octopus in salted water for 20 minutes – use 20g of salt per litre of water. Drain it.
Boil the potatoes in salted water for 10-12 minutes – until tender, but not too soft. Drain.
Clean the celery and peel the carrots. Cut them in cubes of 1/2 cm.
Mix the potatoes, celery, carrots, olives and capers in a glass bowl.
Pour over the juice from the lemon.
At the barbecue:
Prepare the barbecue for direct heat – approx. 170 ºC. Place the sear grate on the grill and let it preheat for 10 minutes.
Brush the octopus with olive oil and grill it for 6-8 minutes. Remember to turn it to ensure even cooking. Remove it when it gets brown and crispy.
Cut it into bite size pieces. Season generously with olive oil, salt and pepper.
Turn in the salad and taste before serving.
All of our recipes are created by our expert chefs at the Weber Grill Academy. View more inspirational recipes or book a course at the Grill Academy now.

More

recipes
You May Also Like
More

recipes
You May Also Like