the

Ingredients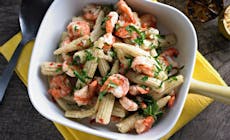 Instructions
Fancy some grilled prawns?  Try this recipe with baby corn and chilli!
In the kitchen:
Peel the prawns. Make a cut along the back and remove the veins.
Wash the baby corn and chilli. Peel the onion and cloves of garlic, finely chop the onion and chilli, and crush the garlic.  
Lay two pieces of aluminium foil (50 cm long) and one piece of baking paper out flat on the worktop. Then combine the prawns, baby corn, onion, chilli and garlic in a bowl. Add the salt and pepper, then tip the mixture onto the baking paper.
Dot the prawns with butter and seal the foil/baking paper to make a rectangular parcel.
Wash the parsley and chop.
At the barbecue:
Prepare the barbecue for indirect heat, approx. 220°C. If using a charcoal barbecue, you will need just under half a chimney starter of lit briquettes. 
Place the parcel of prawns in the centre of the cooking grate. Cook for approx. 20 minutes. Open the parcel and check whether all the scampi have turned red and cooked through. Serve immediately with chopped parsley sprinkled on top.
Extra tip: Serve the prawns with grilled lime, bread and a nice aïoli.
All of our recipes are created by our expert chefs at the Weber Grill Academy. View more inspirational recipes or book a course at the Grill Academy now.

More

recipes
You May Also Like
More

recipes
You May Also Like