the

Ingredients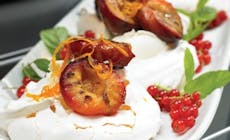 Instructions
This fresh and sweet recipe is best enjoyed on a warm summer's evening!
Set up the barbecue for grilling (direct method) at a high heat. Drizzle the cut-side of the peaches with the vegetable oil and barbecue for 5-6 minutes, or until the peaches have dark grill marks on the bottom.
Meanwhile, melt the butter in a small frying pan on the barbecue. Then add the honey, brown sugar, zest and orange juice. Cook for 2-3 minutes allowing the ingredients to thicken and turn golden-brown and syrupy.
Using a silicon brush paint the charred peaches with the  syrup and cook for a further 2 minutes, tuning if necessary.
To serve, place the peaches on a meringue and spoon over the cream. Drizzle over any leftover syrup, and garnish with a little orange zest.
All of our recipes are created by our expert chefs at the Weber Grill Academy. View more inspirational recipes or book a course at the Grill Academy now.

More

recipes
You May Also Like
More

recipes
You May Also Like