the

Ingredients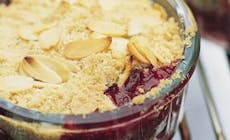 Instructions
This deliciously comforting Apple and Raspberry Crumble is best served with custard or crème fraîche.
In the kitchen:
To make the filling: Divide the raspberries and apples between six small heatproof dishes/ramekins or place them in one large shallow pie dish. Sprinkle with caster sugar, orange zest and juice and water.
To make the crumble: Put the flour into a large bowl with the butter. Using your fingertips, rub in the butter until the mixture resembles rough breadcrumbs, then stir in the almonds and brown sugar.
Scatter the crumble over the fruit filling.
Place on the cooking grate and bake (in-direct method) on medium heat for 20 minutes until the top is golden and the apple and raspberry mixture is bubbling.
Leave to cool slightly before serving with custard or spoonfuls of crème fraiche.
All of our recipes are created by our expert chefs at the Weber Grill Academy. View more inspirational recipes or book a course at the Grill Academy now.

More

recipes
You May Also Like
More

recipes
You May Also Like