the

Ingredients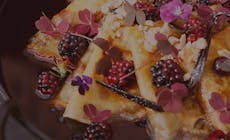 Pancakes
Special Equipment
Instructions
Slice the vanilla pod and scrape out the seeds, saving the vanilla pod for later use.

Mix the flour, sugar, vanilla sugar, salt, cardamom and lemon zest in a bowl. Add the milk and beer while stirring.

Add one egg at a time while whisking. Whisk the batter thoroughly – there mustn't be any lumps. Put the batter in the fridge for one hour.

Prepare the barbecue for direct heat, 200° C. Place the griddle in the GBS grate and pre-heat.

Add butter to the griddle, and fry the pancakes one at a time, turning once. Add more butter as required. When the pancakes are done, fold them into triangles and cover.

Caramelize the sugar lightly in the griddle, add butter and the vanilla pod and let the butter sizzle while stirring. Add the coffee and brown sugar and simmer until the sugar is dissolved. Let the caramel reduce for a thicker consistency.

Add eight folded pancakes to the caramel sauce and heat them carefully, turning them once. When the pancakes are hot, add blackberries and blueberries, and heat up quickly.

Decorate the pancakes with berries and red sorrel on a plate or serve directly in the griddle. Before serving, sprinkle the pancakes with chopped hazelnuts. Serve with ice cream.
All of our recipes are created by our expert chefs at the Weber Grill Academy. View more inspirational recipes or book a course at the Grill Academy now.

More

recipes
You May Also Like
More

recipes
You May Also Like