the

Ingredients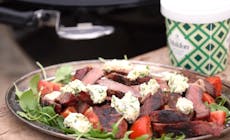 Special Equipment
Weber Connect Smart Grilling Hub
Instructions
In the kitchen

The day before you want to cook, dry brine the steaks. Simply sprinkle the Maldon salt on both sides of each steak and set on a rack hung over a tray. Slide into the fridge and leave uncovered overnight.

To make the blue cheese and chive butter, mash the butter, cheese and chives in a small bowl using a fork. Season with black pepper. Scoop onto a sheet of baking parchment, roll up into a log and twist the ends of the paper in opposite directions to form a neat cylinder. Chill in the fridge.

At the barbecue

Set up the barbecue for 50/50 cooking, this will allow for the reverse searing technique.

Drizzle the steaks with olive oil and season generously with Maldon salt. Insert the Weber Connect Smart Grilling Hub thermometer into the thickest part of the steak, ensuring the tip is in the centre; if you go too far the probe will be too close to the grill bars.

Lay the steaks on the grill bars and cook indirectly over a low heat until 10°C lower than your desired eating temperature. E.g. If you like your steak medium rare at 56°C, gently cook the steak to 46°C.

Then place the steaks directly on the high heat to 'reverse sear' them, turning every minute or so. Remove from the barbecue once the steaks have reached your final desired temperature.

To serve, scatter the rocket over a large platter, adding the tomato slices and a drizzle of balsamic vinegar. Slice the steaks into thick ribbons and pile on top of the salad. Top with slices of the blue cheese and chive butter, which will melt as you eat.
All of our recipes are created by our expert chefs at the Weber Grill Academy. View more inspirational recipes or book a course at the Grill Academy now.

More

recipes
You May Also Like
More

recipes
You May Also Like