the

Ingredients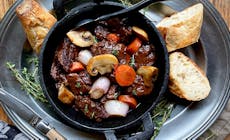 Special Equipment
Instructions
Turn on the barbecue for indirect cooking at 200°C. Add smoke wood chips directly on the coals to bring the smoked flavor. Remembering to soak the chips first.

Once the barbecue is up to temperature, brown the meat in direct cooking (on the sides).

Meanwhile, in the Dutch Oven Duo, brown the carrots and onions cut into large cubes with the butter.

Once all the pieces of meat are grilled, add them to the Dutch Oven Duo with the vegetables and sprinkle with the flour.

Pour in the red wine, cover and leave to cook using indirect cooking (180°C).

After 30 minutes, brown the smoked bacon and the mushrooms in direct cooking on the lid of the plancha. Add the bacon to the casserole and put the lid back on for 30 minutes in indirect cooking.

Check for doneness then add water and cook for at least 30 minutes more, season to taste,

Remove the Dutch Oven Duo from the barbecue and enjoy!
All of our recipes are created by our expert chefs at the Weber Grill Academy. View more inspirational recipes or book a course at the Grill Academy now.

What do you need?
Recommended Tools
What do you need?
Recommended Tools
More

recipes
You May Also Like
More

recipes
You May Also Like