the

Ingredients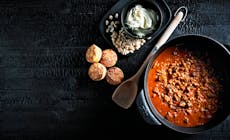 Special Equipment
Instructions
IN THE KITCHEN:
1. Remove the fat and tendons from the beef. Then cut into 2 cm cubes.
2. Peel the onions and chop finely. Peel the garlic and crush.
AT THE BARBECUE:
1. Prepare the barbecue for direct heat, but put the charcoal grate in the lowest position. Use charcoal fuel holders to make it easy to switch to indirect cooking. To reach a temperature of 200-220°C, you will need just under two measuring cups of Weber briquettes.
2. Place the Dutch oven in the grate, put the lid on the barbecue and allow the Dutch oven to heat up.
3. Add oil to the hot Dutch oven. When the oil is hot, brown the meat. Add the onion and garlic, and fry off for a couple of minutes.
4. Add the paprika and tomato purée, stirring until evenly distributed.
5. Remove the Dutch oven from the grate and move the charcoal fuel holders so you can cook with indirect heat.
6. Put the Dutch oven back on the grate, then add the chopped tomatoes, baked beans and water. Put the lid on the oven and close the lid on the barbecue. Allow to simmer for about 45 minutes until the meat is tender, stirring frequently. Add the cheese and stir in 15 minutes before the end of cooking.
7. Season with sambal oelek, salt and pepper.
8. Serve with cornbread, crème fraîche and salted peanuts.
Tip: More water can be added if the chilli gets too thick.
Tip: Minced beef can be used instead of beef shoulder.
All of our recipes are created by our expert chefs at the Weber Grill Academy. View more inspirational recipes or book a course at the Grill Academy now.

More

recipes
You May Also Like
More

recipes
You May Also Like