Spit roast meat at home with the Weber rotisserie
The best roasts are made on a rotisserie
Easy roasting for mouthwatering results
This is a carousel of various images or videos. Use Next and Previous buttons to navigate.
The possibilities are endless when using a rotisserie: a chicken or turkey with crispy skin, a leg of lamb, porchetta with crackling and smoked pork shoulder to name a few. The process yields amazing flavours you just can't get any other way.

The rotisserie gently rotates the food above the cooking grate, evenly distributing heat constantly, producing self-basted meat with juicy results every time. Weber has a rotisserie for most Weber barbecues; the Q, Pulse, Spirit, Genesis, and a rotisserie ring for charcoal grills. No matter which one you own, the results will speak for themselves.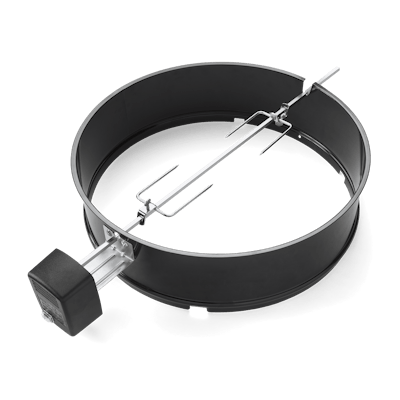 Built for 57 cm charcoal barbecues
Learn More
The spit can even accommodate big birds: simply remove the cooking grate and drip pan from the barbecue, and let the grease management system take care of the rest.
The stainless steel forks are designed to hold both large and small cuts of meat.
Minimal effort: load the food onto the spit, fork it, and let the motor function do the work.
Weber offers a matching rotisserie for every barbecue type.
Easy roeasting for mouthwatering results
How it Works
1. Remove the cooking grate and put the ring/shield in place if using a kettle barbecue or Weber Q-model.
2. Attach the motor to the bracket.
3. Place the inner fork on the spit. Slide the food onto the spit and over the fork, then tighten in place.
4. Slide the second fork onto the spit, press it into the food, and tighten.
5. Place the tip of the spit in the motor, lie it down and let it slide into place.
6. Connect to the power supply, press the button so that the meat rotates, and put the lid on.
Related Posts