the

Ingredients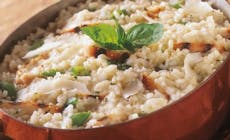 Instructions
A delicious Smoked Chicken Risotto is the perfect warming comfort food for chilly winter days.
Method:
Mix the sugar, salt and pepper in a small bowl. Coat the chicken breasts evenly with the mixture, put them in a medium bowl, cover and refrigerate for at least 2 hours or as long as 6 hours.
Prepare the barbecue for grilling (direct method) over medium heat (180-230°C).
Follow the barbecues instructions for using wood chips. Brush the cooking grates clean. Grill the chicken, skin side down, over a medium heat for 10-12 minutes, with the lid closed as much as possible and turning once, until the meat is opaque throughout and the juices run clear. Remove from the barbecue and thinly slice the chicken.
Bring a medium saucepan filled three-quarters with salted water to the boil. Add the mangetout and parboil for about 3 minutes until barely tender. Drain again and cut into 1 cm (½ inch) pieces.
Bring the chicken stock to a simmer in a medium saucepan. Melt half the butter in a large saucepan over a medium heat. Add the garlic and onion and cook for about 5 minutes, stirring occasionally, until soft. Add the rice and stir until the grains are coated with butter. Add about 125 ml of the simmering stock and the bay leaves and simmer, stirring continuously, until the rice absorbs almost all of the liquid. Add another 125 ml of the liquid. Continue adding stock and stirring until the rice is almost tender, about 25 minutes in total. Remove the bay leaves. Add the parsley, cheese and the remaining butter along with the chicken and mangetout. Stir and cook only enough to mix in the ingredients and warm them. Season with salt and pepper. Serve immediately.
All of our recipes are created by our expert chefs at the Weber Grill Academy. View more inspirational recipes or book a course at the Grill Academy now.

More

recipes
You May Also Like
More

recipes
You May Also Like