the

Ingredients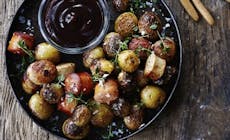 Instructions
Try this sausage recipe with potato wedges. Smoke gives this recipe extra depth of flavour that can't be achieved without your barbecue. 
In the kitchen:
Cut each sausage into 5 pieces. Mix in a bowl the oil with the cayenne pepper and curry powder. Then add the sausage pieces and allow it to marinade for 20 minutes.
In the meantime, make the barbecue sauce. Peel the onion and garlic and chop both finely. Put the rapeseed oil in a pan and sauté the onion, garlic and the fennel seeds until soft and golden. Then add all the other ingredients for the barbecue sauce apart from the bourbon. Simmer the sauce over a low heat for about 15 minutes. Finely add the bourbon and season if necessary with salt and pepper. If you would like to add a smoky flavour to the barbecue sauce – smoke the sauce on the barbecue (see below).
At the barbecue:
Prepare the barbecue for indirect heat, approx. 200°C. Pour the barbecue sauce into a container that can stand the heat from the barbecue. Add smoke chips to the briquettes or in the smoker box and place the sauce over indirect heat, close the lid and smoke the sauce for 10 minutes. Remove it from the barbecue and let it cool off.
Fasten the basket to the rotisserie. Drain the pieces of sausage and put them in the basket together with the par-boiled new potatoes. Close the basket and place the spit in the rotisserie motor. Turn it on and grill the sausage mix for about 20 minutes until the potatoes and sausages are brown. Serve with the homemade barbecue sauce.
All of our recipes are created by our expert chefs at the Weber Grill Academy. View more inspirational recipes or book a course at the Grill Academy now.

More

recipes
You May Also Like
More

recipes
You May Also Like