the

Ingredients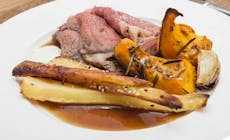 Instructions
The sweet and irresistible taste of these sticky roast parsnips makes the perfect accompaniment to any Sunday roast!
In the kitchen:
Peel the parsnips and cut them into quarters. Cut away the central core of the parsnip, as this can remain tough even when cooked through.
Place the parsnips in a large pan of boiling salted water. Simmer for 5 minutes until the parsnips are tender but not breaking apart.
Drain the parsnips using a colander and allow to cool and dry for at least another 5 minutes.
Add the parsnips to a large Weber Drip Pan, followed by the rapeseed oil, honey, sesame seeds, Nigella seeds, salt and pepper. Very carefully mix the parsnips so all the ingredients are evenly combined.
At the barbecue:
Preheat your barbecue for indirect heat of about 200°C.
Place the tray of parsnips centrally and roast with the lid down. They should take about 30 minutes to roast. Remove when they are turning a golden brown colour and have started to crisp.
Serve immediately.
Why not try Phil Vickery's recipes for Roast Beef with Spiced Roast Squash and Horseradish Sauce.
All of our recipes are created by our expert chefs at the Weber Grill Academy. View more inspirational recipes or book a course at the Grill Academy now.

More

recipes
You May Also Like
More

recipes
You May Also Like