the

Ingredients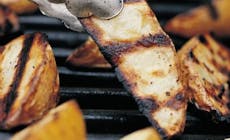 Instructions
Give these quick and easy Smoke Roasted Sweet Potato Wedges a go. They're a great accompaniment to meat and also make a tasty snack!
Method:
Set up the barbecue for roasting (in-direct method).
Slice two large sweet potatoes into wedges and arrange on a lined Weber Style Grill Pan.
Drizzle with olive oil and season with salt and black pepper.
Add a handful of Weber Firespice Hickory Wood Chips to the coals or smoker box and smoke roast for 30 mins, until crisp and golden.
Serve with a garlic mayo dip.
All of our recipes are created by our expert chefs at the Weber Grill Academy. View more inspirational recipes or book a course at the Grill Academy now.

More

recipes
You May Also Like
More

recipes
You May Also Like