the

Ingredients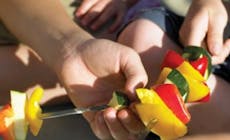 Instructions
Kids will love making their own skewers to put on the barbecue. You could even make fruit skewers for dessert!
Method:
Finely grate the garlic cloves in to a bowl with the olive oil, balsamic and red wine vinegar, salt, pepper and the stripped thyme leaves.
Cut the aubergine into rough 2cm cubes, and slice the courgette into discs 2cm thick.
Cut both peppers in half lengthwise. Remove the stems, core and seeds and flatten with the palm of your hand. Cut both peppers into irregular shapes about 2cm square.
Place all of the prepared vegetables in the bowl with the marinade, coat thoroughly and cover with cling film before refrigerating for at least an hour (up to 4 hours).
Lace the vegetables onto your skewers alternating between aubergine, courgette and pepper until everything has been used.
Brush the cooking grate clean and grill (direct method, medium heat) the skewers, with the lid closed as much as possible, until tender.
Turn the skewers only once but if they're colouring too quickly, sear on all sides before transferring to an area of in-direct heat.
All of our recipes are created by our expert chefs at the Weber Grill Academy. View more inspirational recipes or book a course at the Grill Academy now.

More

recipes
You May Also Like
More

recipes
You May Also Like