the

Ingredients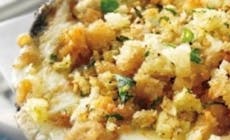 Instructions
For all the mushroom lovers out there, you can't beat this yummy recipe for Marinated Portabello Mushrooms!
Method:
In a small bowl whisk the marinade ingredients.
Wipe the mushrooms clean with a damp cloth or paper towel. Remove and discard the stems. With a teaspoon, carefully scrape out and discard the black gills from the mushroom caps (see photos on opposite page). Place the mushrooms, cap sides up, on a rimmed plate and brush them with the marinade. Turn the mushrooms over and brush again with the marinade. Let stand for 15 to 20 minutes at room temperature.
Prepare the grill for direct cooking over medium heat (77° to 110°C) (175 to 230F).
In a small bowl combine the bread crumbs with the parsley.
Brush the cooking grates clean. Grill the mushrooms, gill sides down, over direct medium heat, with the lid closed, until the mushrooms begin to soften, 4 to 6 minutes. Brush the cap sides with some of the remaining marinade from the plate, turn them over, add 25g of cheese on top of each mushroom, close the lid, and cook until tender when pierced with a knife, 4 to 6 minutes. During the last minute of cooking, place the bread crumb mixture evenly on top of each mushroom. Remove from the grill, add salt and pepper to taste, and serve immediately.
All of our recipes are created by our expert chefs at the Weber Grill Academy. View more inspirational recipes or book a course at the Grill Academy now.

More

recipes
You May Also Like
More

recipes
You May Also Like