the

Ingredients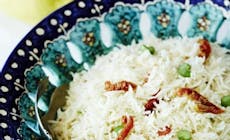 Instructions
Great as a side dish with chicken wings!
In the kitchen:
Peel the lemon and cut into slices. Cover the bottom of a clay pot with the slices. Pour the chicken broth over the lemon slices. 
Rinse the rice with water at least three times, until the water is clear. Drain and pour the rice into the clay pot.
Cut the butter into cubes and chop the lemon grass and put it all into the clay pot together. 
Put the sun-dried tomatoes into lukewarm water. After ten minutes, drain and slice them. 
Add the peas and sun-dried tomatoes to the clay pot. Stir into the other ingredients. 
Add salt and pepper to taste.
At the barbecue:
Prepare the barbecue for indirect heat, approx. 150°C. If using a charcoal barbecue you need approx. half a chimney starter of lit briquettes. 
Cover the clay pot with baking paper. 
Place the clay pot in the middle of the grate and close the lid and let the rice absorb all the liquid. This will take approx. 30 minutes. 
Remove the clay pot from the barbecue and let stand for at least 15 minutes for serving.
Then serve hot together with different kinds of meat.
Additional equipment: Clay pot
All of our recipes are created by our expert chefs at the Weber Grill Academy. View more inspirational recipes or book a course at the Grill Academy now.

More

recipes
You May Also Like
More

recipes
You May Also Like