the

Ingredients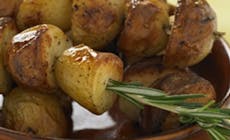 Instructions
These delicious and fragrant roast potatoes are best enjoyed alongside a barbecued roast.
* You can use skewers instead of rosemary branches, if desired
Method:
Cut the potatoes in half and then place them in a medium bowl. Add 2 tablespoons of oil and garlic. Season with salt and pepper.
Strip almost all the leaves from the rosemary branches to form skewers, leaving some leaves near the slightly thinner end. Finally chop enough leaves to weigh 25g and add them to the potatoes. Toss the potatoes to coat thoroughly with the oil and seasonings. Using the thicker end of each rosemary skewer as a point, thread the potato halves onto the skewers, dividing the potatoes equally.
Prepare the grill for grilling over a medium heat.
Brush the cooking grate clean. Grill the skewers over a medium grilling heat for 25-30 minutes, with the lid closed as much as possible and turning once or twice, until the skins begin to brown and crisp.
Bring the vinegar to simmer in a small sauté pan over a medium heat, then reduce the heat until a few bubbles are just breaking through the surface. Cook at a slow simmer until almost 2 tablespoons remain. As it nears this amount the vinegar will cling to the back of a spoon and it will coat the bottom of a pan when you rock it back and forth. The total cooking time will be about 10 minutes, but keep an eye on the vinegar. If it cooks to quickly or it reduces too much it will turn bitter rather than sweet. Remove the sauté pan from the heat (the vinegar will continue to thicken as it cools). Pour enough olive oil onto a serving platter to form a thin layer. Sprinkle the oil with salt and pepper. Drizzle the warm vinegar over the oil. Place the skewers on the platter, turn the potatoes in the oil and vinegar and serve immediately.
All of our recipes are created by our expert chefs at the Weber Grill Academy. View more inspirational recipes or book a course at the Grill Academy now.

More

recipes
You May Also Like
More

recipes
You May Also Like