the

Ingredients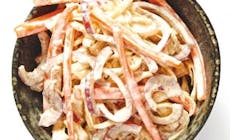 Instructions
Tasty cabbage and piles of crisp grated carrot – smothered in a generous amount of creamy mayonnaise
Finely slice the white cabbage and coarsely grate the carrots.
Thoroughly mix the two together.
Beat the marinade ingredients together and add the cabbage mixture. Let it draw for 30 minutes, frequently turning the mixture.
Mix together the coleslaw dressing ingredients – add salt, pepper and sugar to taste.
Drain the marinade from the cabbage mixture and turn the vegetables in the dressing instead.
All of our recipes are created by our expert chefs at the Weber Grill Academy. View more inspirational recipes or book a course at the Grill Academy now.

More

recipes
You May Also Like
More

recipes
You May Also Like