the

Ingredients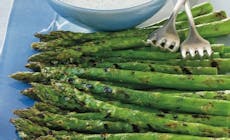 Instructions
Asparagus is in season, so why not try this delicious recipe from Weber's Barbecue Anytime cook book?
Prepare the barbecue for grilling (direct method) over medium heat (180-230°C).
Pulse the parsley, spring onions and tarragon in a food processor until finely chopped. Add the soured cream, mayonnaise and lemon juice and process until smooth. Add the capers and pulse until combined. Transfer to a serving bowl and refrigerate until ready to serve.
Remove and discard the tough bottom of each asparagus spear by grasping at each end and bending it gently until it snaps at its natural point of tenderness, usually about two-thirds of the way down the spear.
Spread the asparagus on a large plate. Drizzle with the oil and season with the salt. Roll the spears in the oil until they are evenly coated.
Brush the cooking grates clean. Grill the asparagus (laid at right-angles to the bars of the grate) over direct medium heat for 6-8 minutes, with the lid closed as much as possible and turning occasionally, until browned in spots but not charred. Remove from the grill and serve warm with the dip.
All of our recipes are created by our expert chefs at the Weber Grill Academy. View more inspirational recipes or book a course at the Grill Academy now.

More

recipes
You May Also Like
More

recipes
You May Also Like