the

Ingredients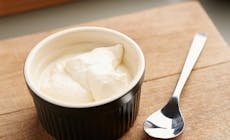 Instructions
Add a burst of extra flavour to your roast beef with Phil Vickery's recipe for homemade horseradish sauce.
Method:
Start by peeling the horseradish root. Then finely grate half of the horseradish into a mixing bowl.
Add the sour cream. At this point, check the horseradish strength by tasting the mixture. If you prefer it stronger, add in more grated horseradish.
Once the strength is to your liking, add the vinegar, salt and pepper, adjusting the seasoning to your preference.
Leave the horseradish sauce to stand and infuse for an hour, as this will improve the flavor quality.
Serve with roast beef.
Why not try Phil Vickery's recipes for Roast Beef with Spiced Roast Squashand Sticky Roast Parsnips.
All of our recipes are created by our expert chefs at the Weber Grill Academy. View more inspirational recipes or book a course at the Grill Academy now.

More

recipes
You May Also Like
More

recipes
You May Also Like