the

Ingredients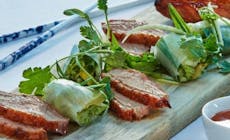 Instructions
Teriyaki-marinated duck breast, give this recipe a try!
In the kitchen:
Teriyaki sauce
Put the soy sauce, water, sugar, grated ginger and crushed garlic in a pan and bring to boil over a medium/high heat.
Allow the sauce to simmer for approx. 3 min.
Mix the cornflour with 2 tbsp of water and thicken the sauce.
Leave to cool.
Duck breast
Score the skin on the duck breasts in a criss-cross pattern.
Marinate the duck breasts in the chilled teriyaki sauce for approx. 1 hour.
At the barbecue:
Three-quarters fill the chimney starter with Weber briquettes and prepare the barbecue for indirect heat - 260-270°C.
Brush the grate with a neutral oil.
Place the marinated duck breasts on the grate and cook for approx. 20-25 min until the core temperature is 58°C.
Put a small handful of smoke chips directly over the briquettes for the last 10 min of cooking time.
Tip: Serve the barbecued duck breasts with julienne vegetables rolled in rice paper and with a sweet chilli sauce.
All of our recipes are created by our expert chefs at the Weber Grill Academy. View more inspirational recipes or book a course at the Grill Academy now.

More

recipes
You May Also Like
More

recipes
You May Also Like