the

Ingredients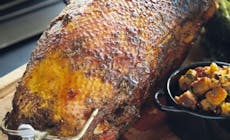 Instructions
Serve your family the perfect stuffed goose off a Weber barbecue.
In the kitchen:
To prepare the stuffing, dice the onion and garlic then soften in a pan with a little butter.
Deglaze with white wine and pour into a mixing bowl to cool down.
Dice the dried fruits into small cubes, then cut up the bread into small cubes, roughly 1 x 1cm.
Beat the eggs with salt and pepper, add the cream and fruits and mix until smooth.
Then add the bread, chopped parsley, cinnamon and thyme to the mixture.
Let everything rest for about 15 minutes.
To prepare the goose: Firstly combined together the ingredients for the BBQ rub in a bowl. Then wash and dry the goose and cut off the wings. Rub the goose with the BBQ rub outside and inside. Fill the goose with the stuffing mixture and close it with kitchen string or wooden toothpicks.
At the barbecue:
Prepare the barbecue for indirect heat, approx. 180°C.
Place the stuffed goose onto the Weber Rotisserie and place over indirect heat.
As goose is very fatty be sure to place a drip pan underneath to collect the fat, remember to check and empty during the cooking process if required.
Cook goose for approx. 3 hours or until the core temperature of the meat is 80°C
All of our recipes are created by our expert chefs at the Weber Grill Academy. View more inspirational recipes or book a course at the Grill Academy now.

More

recipes
You May Also Like
More

recipes
You May Also Like