the

Ingredients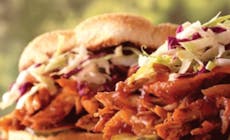 Instructions
For a twist on the classic pulled pork sandwich, check out this delicious recipe for Pulled Chicken Sandwiches with Apple Cider and Cabbage Slaw.
Method:
In a medium saucepan over medium-high heat, bring the apple cider to a boil and boil until it has reduced to 175ml, around 10 to 12 minutes. Stir in the remaining sauce ingredients and return to a simmer. Reduce the heat to medium and continue simmering the sauce until it is slightly thickened, 8 to 10 minutes, stirring occasionally. Remove the saucepan from the heat and set aside.
In a small bowl combine the rub ingredients. Stir in the oil to make a wet rub. Brush the chicken legs evenly on both sides with the wet rub. Allow the chicken legs to stand at room temperature for 20 minutes before placing on the barbecue.
Prepare the barbecue for direct and in-direct cooking over medium heat (175° to 230°C).
Meanwhile, in a medium bowl combine the slaw ingredients and mix well. Set aside.
Barbecue the chicken legs over in-direct medium heat, with the lid closed as much as possible, until the juices run clear and the meat is no longer pink at the bone, 50 minutes to 1 hour, turning once. Remove the chicken legs from the grill, transfer to a rimmed baking sheet, and let rest until cool enough to handle, about 10 minutes. Toast the buns, cut side down, over direct medium heat, with the lid closed, for about 1 minute.
Using two forks, or your fingers, pull the chicken apart into shreds. Add the chicken to the saucepan with the sauce and heat over medium heat until hot, 2 to 3 minutes. Pile the chicken on the buns and top with coleslaw.
Recipe by Jamie Purviance
All of our recipes are created by our expert chefs at the Weber Grill Academy. View more inspirational recipes or book a course at the Grill Academy now.

More

recipes
You May Also Like
More

recipes
You May Also Like