the

Ingredients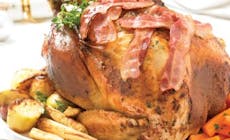 Instructions
Try cooking your Christmas turkey on a barbecue and free up your oven for all the accompaniments!
In the kitchen:
Prepare the barbecue for roasting (in-direct method) at approx. 180°C.
Put the butter in a large bowl and season with salt and pepper. Add the olive oil, lemon zest and juice, crushed garlic and chopped parsley and mix well.
Gently loosen the skin on the breast from both ends of the bird (be careful not to tear the skin). Feel your way down towards the legs from the lower side of the breast, working your way under the skin of the legs to loosen the gap.
Stuff half the butter mix under the skin and gently massage the butter around the breasts and down over the legs so that the meat is evenly covered. Finally, insert the bay leaves under the breast skin.
Put the vegetables and sliced lemon in a roasting tin with the parsley and thyme. Place the bird on top, breast side up. Spread the rest of the butter all over the outside of the skin. Season well and drizzle with a little olive oil.
Roast the turkey on the barbecue for 10–15 minutes. Then baste and lay the bacon over the breast. Baste again and put back on the barbecue with the lid closed. Cook for about 2 3/4 hours (or 30 mins per kg) basting occasionally.
Check that the juices are running clear or check the internal temperature is over 75°C using a meat thermometer before removing from the barbecue.
Leave to rest for at least 45 minutes. Remove the bay leaves from under the skin before carving. Use the veg and pan juices to make your gravy.
All of our recipes are created by our expert chefs at the Weber Grill Academy. View more inspirational recipes or book a course at the Grill Academy now.

More

recipes
You May Also Like
More

recipes
You May Also Like