the

Ingredients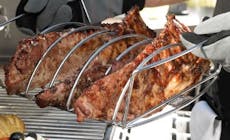 Instructions
In the kitchen:

Remove the thin membrane from the back of each rack of ribs. Using a table knife, starting at the thinner end of the rack, lift the membrane and pull.

Place all of the rub ingredients into a Weber Spice Grinder. Shake and then grind the rub ingredients all over the meat side of the ribs. Alternatively grind all the rub ingredients in a pestle and mortar or food processor and rub into the ribs.

At the barbecue:

Allow the ribs to stand for 30 minutes a room temperature. Prepare the barbecue for roasting (in-direct method) at a low heat.

Arrange the ribs in a Weber Original Rib Rack, all facing the same direction. Place the ribs on the barbecue and roast over a low heat for one hour, positioned over a foil tin as far from the coals as possible, with the bone side facing the coals.

Remove the ribs from the rack and spread out in Weber Drip Tray. Cover with foil and pierce to allow the steam to escape. Cook for an additional hour.

Remove the foil and cook for another 40 minutes.

Baste the ribs with a good quality barbecue sauce, and cook for a final 20 minutes. Allow to rest then serve.

Serving Suggestion

Serve alongside potatoes, coleslaw or any other favourite bbq side dishes.
All of our recipes are created by our expert chefs at the Weber Grill Academy. View more inspirational recipes or book a course at the Grill Academy now.

More

recipes
You May Also Like
More

recipes
You May Also Like