the

Ingredients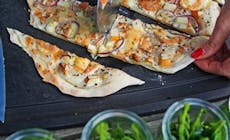 Instructions
This tasty recipe for Tarte Flambeé is courtesy of Kerstin Getto at My Cooking Love Affair – www.mycookingloveaffair.de
In the kitchen:
Mix all the ingredients for the batter together to create a dough. Knead until smooth.
Roll out the dough very thinly to form a round or square shape, cover with sour cream and season with salt and pepper.
Peel the onion and cut it into thin rings.
Cut the Munster cheese into slices, peel and dice the apple (1 cm) then scatter over the dough.
Chop the walnuts and scatter the nuts and caraway seeds over the dough.
Wash and dry the rocket. Peel the shallot and chop very finely. Mix the honey and lemon juice together, and slowly add the oil while whisking. Add salt and pepper to taste. Marinate the rocket in the vinaigrette in a glass jar.
At the grill:
Prepare the grill for in-direct heat (230°C). Place the pizza stone in the GBS grate (or on top of the grate if you do not have a GBS grate or GBS pizza stone) and let it preheat. Then bake the tarte flambee under lid for 10 minutes until the crust is crispy.
Cut the tarte into nice pieces and serve on the marinated salad on a plate.
All of our recipes are created by our expert chefs at the Weber Grill Academy. View more inspirational recipes or book a course at the Grill Academy now.

More

recipes
You May Also Like
More

recipes
You May Also Like