the

Ingredients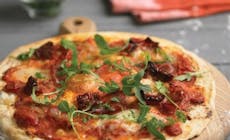 Instructions
Amazing Italian style stone baked pizza with wild rocket & parma ham
Method:
Place all flour into a large mixing bowl, add the yeast sachet, salt and sugar. Then add the  warm water and mix until all combined.
Knead the dough for 7 minutes adding extra Tipo 00 flour if the dough is too sticky. Allow to rise in a warm room for 1 hour or until doubled in size.
With floured hands, scrape the dough from the bowl and knead roughly for a few minutes to expel excess air. Split into five equal balls and leave to prove for a further 30 minutes.
Set up your barbecue for grilling (direct heat), 260 degrees C and place the pizza stone on to pre-heat for 10 minutes. Spread the coals evenly across the whole grate area.
Roll the dough into five 12" bases, thinly spread with tomato sauce and cover with toppings. Keep the wild rocket leaves until the pizza is cooked.
Use a floured pizza paddle to transfer pizzas to the pre-heated pizza stone. Bake for about 4 minutes  or until the base is light and crispy. 
Garnish with the wild rocket.
Tip: You can freeze unused dough for future use.
All of our recipes are created by our expert chefs at the Weber Grill Academy. View more inspirational recipes or book a course at the Grill Academy now.

More

recipes
You May Also Like
More

recipes
You May Also Like