the

Ingredients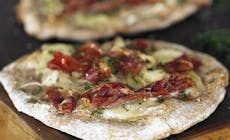 Instructions
"Many people don't think to create a pizza on a barbecue. It's actually a great way to create an authentic base as the temperature reaches a heat more inline with a pizza oven than a conventional kitchen oven." Tom Herbert.
In the kitchen:
Begin with the dough. Mix the dry yeast with the salt and water. Let the yeast dissolve.
Mix the two types of flour in a food processor and add the water mixture.
Knead for 10-15 minutes – until it forms a smooth dough.
Roll it into a ball on a floured surface and leave it in a covered bowl to rise for about 1 hour.
Peel the potatoes and cut them into 1⁄2 x 1⁄2 cm cubes.
Blanch them briefly in boiling salted water until they are almost done. Drain.
Peel the onion and slice thinly. Add a bit of salt to it.
Wash the chives and cut very finely – place them in the fridge.
Grate the cheese and slice the ham.
When the dough has risen, divide it in 8 pieces. Form them into small oval-shaped pizzas and place them on the baking tray dusted with flour.
Brush the pizzas with sour cream, leaving about a 1 cm margin around the edge.
Top with sliced ham, potato cubes, onion and cheese.
At the barbecue:
Prepare the barbecue for indirect heat – approx. 250°C.
Put the pizza stone on and let it preheat for 15-20 minutes.
Place the baking tray with the pizzas on to the stone and close the lid.
Let them bake for 6-8 minutes.
Regularly check that the crusts are not burning. If so – move slightly on the stone.
Remove pizzas from the grill when the dough is golden brown, the topping has browned and the cheese is melted.
Serve with a generous amount of chives and salt and pepper to taste.
All of our recipes are created by our expert chefs at the Weber Grill Academy. View more inspirational recipes or book a course at the Grill Academy now.

More

recipes
You May Also Like
More

recipes
You May Also Like