the

Ingredients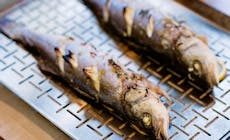 Instructions
This recipe for roast sea bass from celebrity chef Aldo Zilli makes a succulent starter or delicious main course. Serve with a fresh fennel and herb salad.
In the kitchen:
On a chopping board, score the fish on both sides. Poke the garlic rounds into the incisions. Rub in the lemon zest, rosemary, fennel seed, salt and oil.
For the salad
Finely slice the fennel in a bowl. Add watercress, fresh mint and parsley. Season with extra virgin olive oil, juice of half a lemon and salt
At the barbecue:
Prepare the barbecue for indirect heat, approx. 200°C.
Roast the sea bass on a grill pan with lemon slices between the fish and metal pan. This will minimise any sticking issue
All of our recipes are created by our expert chefs at the Weber Grill Academy. View more inspirational recipes or book a course at the Grill Academy now.

More

recipes
You May Also Like
More

recipes
You May Also Like