the

Ingredients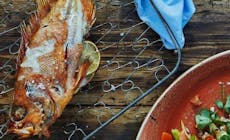 Instructions
Whole roasted ocean perch with a fresh avocado salsa.
In the kitchen:
Clean the fish by scaling with a knife, then rinse under the cold tap.
Brush the fish with oil, and season inside and out with salt and pepper. 
Wash the lime and cut it into slices. Put slices of lime inside the fish. 
Place the fish in the fish turner and click shut.
Avocado salsa:
Wash the tomatoes. Dice the avocados and tomatoes.
Peel the onion and finely chop it. Cut the spring onions into fine strips, finely chop the chilli and coarsely chop the coriander. 
Mix all the ingredients together into a salsa.
Add lemon juice and a little oil to the salsa, then season with salt and pepper, and serve with the fish.
At the barbecue:
Half fill the chimney starter with Weber briquettes, light them and prepare the barbecue for indirect heat - approx. 240-250°C.
Place the fish turner on the barbecue and cook the fish for approx. 15 min on each side until the core temperature is 60°C.
Tip: You can also check whether the fish is ready by lifting the flesh a little at the thickest point to see if the bones are white. If they are, the fish is ready.
All of our recipes are created by our expert chefs at the Weber Grill Academy. View more inspirational recipes or book a course at the Grill Academy now.

More

recipes
You May Also Like
More

recipes
You May Also Like