the

Ingredients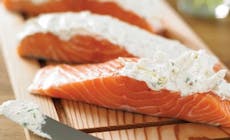 Instructions
This Irish inspired Oak Planked, Irish Whiskey Salmon with Soda Bread recipe is perfect for St Patrick's Day!
For the Soda Bread:
Sift the flour and bicarbonate of soda into a large bowl and add the salt. Make a well in the centre and pour in the buttermilk or yoghurt, stirring as you go. If necessary, add a splash of milk to bring it together; it should form soft dough, just this side of sticky.
Tip it out on to a floured work surface and knead lightly for about a minute, just long enough to pull it into a loose ball but no longer – it needs to go on the barbecue while the bicarb' is still doing its stuff. You're not looking for the kind of smooth, elastic dough you'd get with yeast-based bread.
Set up the barbecue for roasting (in-direct method) and preheat a pizza stone. Flour the dough generously and mark a deep cross on it with a sharp, serrated knife (cut about two-thirds of the way through the loaf).
Dust the pizza stone lightly with flour, then place the dough on the stone using a Weber Style Pizza Paddle. Cook the bread for around 30-40 minutes until the loaf sounds hollow when tapped underneath.
Cool slightly on a wire rack if you like a crunchy crust, or wrap in a clean tea towel if you prefer a soft crust. Serve warm cut into generous chunks.
For the Salmon:
Cut the fish into 120g fillets removing the skin first and making sure there are no bones. Place salmon fillets on the wet oak plank and salt.
In a mixing bowl add the cream cheese, whiskey, runny honey, dill, lemon juice and zest.
With a pallet knife spread the cream cheese mixture equally over the fillets. Grind the black pepper on top and season with salt.
Set up the barbecue for roasting (Indirect method) and place the oak planked salmon directly onto the barbecue. Add the wood chips to the hot coals and cook for 20-25 minutes with the lid down, until the flesh is flaky and the cream cheese is golden on top.
All of our recipes are created by our expert chefs at the Weber Grill Academy. View more inspirational recipes or book a course at the Grill Academy now.

More

recipes
You May Also Like
More

recipes
You May Also Like