the

Ingredients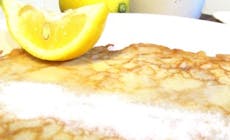 Instructions
Get perfect pancakes this Pancake Day with this quick and easy recipe!
Method:
Combine the flour and salt in a small mixing bowl. In a larger bowl, beat the milk and the eggs. Add flour mixture gradually, and beat till smooth. Stir in melted butter.
Set up the barbecue with the Gourmet BBQ System Griddle for grilling (direct method) at a medium heat and leave to pre-heat for 15 minutes. Add a knob of butter. When it's melted, add a ladle of batter, and spread evenly.
Wait until the top of the pancake begins to bubble, then turn it over and cook until both sides are golden brown.
Serve hot topped with a sprinkling of sugar and squeeze of lemon juice.
All of our recipes are created by our expert chefs at the Weber Grill Academy. View more inspirational recipes or book a course at the Grill Academy now.

What do you need?
Recommended Tools
What do you need?
Recommended Tools
More

recipes
You May Also Like
More

recipes
You May Also Like