the

Ingredients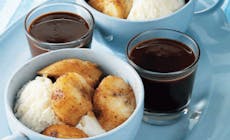 Instructions
For a Sundae with a difference, why not try this deliciously Spiced Banana Sundae, served with sweet Chocolate sauce?
Method:
To make the chocolate sauce: In a small saucepan over medium-high heat, bring the cream to a simmer.  Remove the pan from the heat and immediately add the chocolate.  Stir until the sauce is dark and smooth.
In a large frying pan over medium heat, melt the butter. Add the cinnamon, ginger, and cloves and stir to evenly combine the ingredients. Remove the pan from the heat. Place the bananas in the pan and brush them on all sides with the butter mixture.
Gently pick the bananas out of the frying pan and grill over direct medium heat until warm and well-marked but not too soft, 2 to 3 minutes, gently turning once. Transfer the bananas to a work surface and cut them on the bias into 1⁄2-inch slices.
Re-heat the chocolate sauce over medium heat. Scoop the ice cream into bowls. Top with the warm bananas and chocolate sauce. Serve immediately.
All of our recipes are created by our expert chefs at the Weber Grill Academy. View more inspirational recipes or book a course at the Grill Academy now.

More

recipes
You May Also Like
More

recipes
You May Also Like