the

Ingredients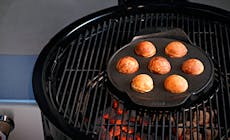 Special Equipment
Instructions
IN THE KITCHEN:
1. Put the flour, cane sugar, salt and baking soda in a bowl.
2. Then stir in the eggs, milk and cream, and beat with a handheld mixer until the batter is smooth and there are no lumps. Transfer the batter to a jug.
3. Wash and hull the strawberries. Put the water, sugar and vanilla seeds in a saucepan and bring to the boil. Transfer to a container and place in the refrigerator. Blend the cold sugar mixture and strawberries to make a smooth purée. Add lemon juice to taste. Place in the refrigerator.
AT THE BARBECUE:
1. Prepare the barbecue for direct heat, but put the charcoal grate in the lowest position. You will need the equivalent of 1-1½ measuring cups of Weber briquettes.
2. Place the ebelskiver insert in the grate and preheat with the lid on.
3. Put a little butter in each hole and three-quarters fill with batter. Cook the puff pancakes a little with the lid on. When the crust is golden, turn through 90 degrees with a small fork or a skewer. Add a little more batter and give the puff pancakes another couple of minutes. Finally, turn all the way. Over the next 3-5 minutes, turn frequently until uniformly golden. Serve with strawberry purée.
All of our recipes are created by our expert chefs at the Weber Grill Academy. View more inspirational recipes or book a course at the Grill Academy now.

More

recipes
You May Also Like
More

recipes
You May Also Like