the

Ingredients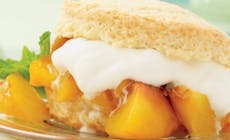 Instructions
Peaches from the barbecue are delicious, and are perfectly accompanied by home-baked shortcakes and vanilla cream.
Method:
Preheat oven to 204°C.
In a large bowl combine the flour, granulated sugar, baking powder, salt, and blend well. Add the butter and mix with a fork or a pastry blender just until the mixture resembles coarse bread crumbs. Add the half-and-half and gently stir it in (the mixture will be crumbly). Then use your hands to mix the dough quickly and gently in the bowl just until it comes together. Turn the dough out onto a lightly floured work surface. Lightly dust your hands with flour and gently pat out the dough to about ¾ inch thick. Dip a round biscuit cutter, 2½ to 3 inches in diameter, in flour and cut out rounds of dough. Gather scraps of dough and pat out, using a light touch so you don't overwork the dough; cut to make a total of 8 shortcakes. Place the shortcakes about 2 inches apart on a baking sheet lined with parchment paper. Brush the tops with the melted butter. Bake the shortcakes for 15 to 20 minutes. Set aside to cool.
In a large bowl combine the cream, vanilla, and powdered sugar and whip to just-stiff peaks; do not over beat. Cover and refrigerate until serving.
Prepare the grill for direct cooking over medium heat. Brush the cooking grates clean. Sprinkle the cut sides of the peach halves with the brown sugar. Grill the peach halves, cut sides up, over direct medium heat, with the lid closed, until the sugar melts and the peaches are soft, 8 to 10 minutes. Carefully remove from the grill and pour the melted brown sugar from the peaches into a medium bowl.
Pull the charred skin off the peaches and discard. Cut the peaches into bite-sized pieces and add them to the bowl with the melted brown sugar. Gently toss to coat. Split each shortcake horizontally and top each bottom half with equal portions of the peaches and whipped cream. Add the shortcake tops and garnish with mint sprigs, if desired.
All of our recipes are created by our expert chefs at the Weber Grill Academy. View more inspirational recipes or book a course at the Grill Academy now.

More

recipes
You May Also Like
More

recipes
You May Also Like