the

Ingredients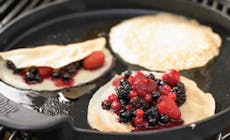 Instructions
This pancake recipe makes a lovely fruity treat for breakfast or as a dessert served with vanilla ice cream.
Method:
Place the eggs into a large bowl and lightly beat. Add the sifted flour to make a thick paste.
Gradually add the milk and mix to make a smooth batter. Add the pinch of salt.
Grease a hot Weber Griddle with butter. Take 2 tablespoons of the batter mixture and pour onto the griddle. Use the back of a spoon to create a round shape, cook for half a minute on each side until golden and bubbling.
Meanwhile add the frozen mixed berries, Crème de Cassis and sugar to a saucepan and simmer on a low heat for 8-10 minutes until the juices have thickened and are slightly syrupy. Add the squeeze of lemon and you're ready to serve.
Add a spoonful of the fruit mixture and a scoop of ice cream to the centre of each pancake, fold and serve.
All of our recipes are created by our expert chefs at the Weber Grill Academy. View more inspirational recipes or book a course at the Grill Academy now.

What do you need?
Recommended Tools
What do you need?
Recommended Tools
More

recipes
You May Also Like
More

recipes
You May Also Like