the

Ingredients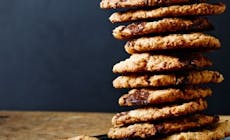 Instructions
These cookies make a crumbly and flavoursome treat.
In the kitchen:
In the kitchen
Melt the butter in a saucepan, remove from the heat and mix in the brown sugar.
Beat the sugar with the seeds from the vanilla pod, egg and salt until foamy.
Mix in the oats and then turn together with the butter mixture.
Add the baking powder and wheat flour. Add the flour a little at a time and avoid letting the dough get too dry. You may not need to use all the flour – it depends on the size of the egg.
Chop the chocolate and hazelnuts into uniform coarse pieces and mix into the dough.
Roll the dough in baking paper to form a 'sausage' about 5 cm in diameter and leave to stand in the refrigerator, to make it easier to slice later.
Once chilled, cut the dough into 1½-2 cm thick slices and place the cookies on baking paper on a baking tray.
At the grill:
Get the barbecue ready for in-direct heat, approx. 180 °C.
Place the pizza stone on the cooking grate, put the lid on and pre-heat it for 10 minutes.
Place the baking tray and cookies on the stone and bake with the lid on for 8-12 minutes.
All of our recipes are created by our expert chefs at the Weber Grill Academy. View more inspirational recipes or book a course at the Grill Academy now.

More

recipes
You May Also Like
More

recipes
You May Also Like