the

Ingredients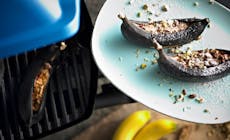 Instructions
Fancy banana and Snickers? Try this great dessert.
In the kitchen:
Make a cut along the top of the bananas - it should not go all the way through.
Then halve the two Snickers lengthways and insert one half in each banana.
Coarsely chop the nuts.
At the barbecue:
Prepare the barbecue for indirect heat, approx. 180°C. If using a charcoal barbecue, you will need a third of a chimney starter of lit briquettes.
Place the bananas in the centre of the cooking grate and put the lid on. 
Cook the bananas for 12-13 minutes until they are dark all over and the half Snickers have melted.
Take the bananas off the barbecue and decorate with coarsely chopped nuts. Serve with a little vanilla ice cream or whipped cream, if wished.
All of our recipes are created by our expert chefs at the Weber Grill Academy. View more inspirational recipes or book a course at the Grill Academy now.

More

recipes
You May Also Like
More

recipes
You May Also Like