the

Ingredients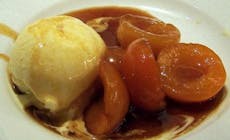 Instructions
Try Me & My Weber's Ross Holden's late father's Flambeed Peaches: a recipe passed down through the generations and served every Christmas Day.
Halve the peaches or nectarines and flip out the stones.
Melt some butter in a hot large frying pan or very large foil tray and place on top of the cooking grate. Place the lid on the barbecue for a few minutes to heat the butter.
Place the peach or nectarine halves face down (dome up) into the butter and sauté for 3-4 minutes. 
When nicely sautéed start to sprinkle brown muscovado sugar into the skillet or foil tray, try to get it into the butter not all over the fruit, although most will fall into the pan anyway from the turned-up fruit.
Cook for a further 3-4 minutes, moving the fruit and buttery sugary mixture around the pan a little, until the sugar is dissolved into the butter. 
Take a measure of brandy and pour it over the pan of fruit and ignite it. This will flambé the fruit, but more importantly it will start to caramelise the sugar and butter mixture. (the flambé part is best done to an audience)
Remove the fruit and place on a serving plate or bowl with the dome side facing downwards. 
Take the double cream and stir this into the brandy caramel mixture.
Spoon the caramel brandy cream mixture into the centre of each peach or nectarine, leaving enough to spoon around the serving dish.
All of our recipes are created by our expert chefs at the Weber Grill Academy. View more inspirational recipes or book a course at the Grill Academy now.

More

recipes
You May Also Like
More

recipes
You May Also Like